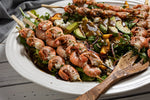 Get your GoFYSH box today!

Serves: 4
Ingredients
Prawns
1 lb tub of frozen BC Spot Prawns, thawed
Olive oil
Salt and pepper to taste
4 tbsp butter
1 glove garlic, minced
2 tbsp finely chopped fresh herbs of your choice.
Salad
4-6 cups organic mixed greens
2 large peaches, sliced
1 avocado, diced
1/2 small red onion, very thinly sliced
1/2 cup goat cheese crumbles
1/2 cup sliced toasted almonds
Dressing
3 tbsp balsamic vinegar
3 tbsp extra virgin olive oil
1 garlic clove, minced
1/2 tsp dijon mustard
Salt and pepper, to taste
Optional: 1 tsp sugar, to sweeten dressing
Method
Prawns
Step 1
Skewer Prawns (shell and tail kept on) onto wooden (soak for at least 30 min before) or metal skewers.
Step 2
Brush with olive oil and a generous amount of salt and pepper.
Step 3
Heat grill to medium heat
Step 4
Place skewers onto grill and grill for 3 min per side or until shells are light pink and charred.
Step 5
Melt butter and add garlic and herbs
Step 6
Once prawns are off the grill brush with butter mixture.
Step 7
Serve immediately along side salad.
Salad
Step 1
In a medium bowl, whisk together the balsamic vinaigrette: balsamic, olive oil, minced garlic, dijon and salt and pepper.
Step 2
In a large bowl, add the greens. Top salad with peach slices, diced avocado, red onion, goat cheese crumbles and toasted almonds. Toss gently right before serving.