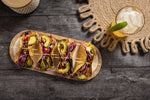 Get your GoFYSH box today!

Serves: 4
Ingredients
Halibut
4 pc Halibut/any white fish
3 tbsp olive oil
2 tsp ancho chile powder
1/2 tsp ground cumin
1/4 tsp paprika
1/2 tsp salt
1/4 tsp freshly ground black pepper
Pinch cayenne pepper
2 limes, juiced
1 tsp lime zest
1/2 tsp salt
2 tsp honey
2 cloves garlic, minced
Peach Salsa
2 fresh peaches, diced (alternatively use nectarines, pineapple or mango)
3 tbsp finely diced red onion
1 jalapeño, chopped (remove the seeds if you want it less spicy)
1/4 cup chopped fresh cilantro
1 lime, juiced
Salt to taste
For Serving
Charred tortillas
Sliced avocado
Shredded cabbage
Lime wedges
Method
Halibut
Step 1
Line a rimmed baking sheet with parchment paper, and place the halibut, on top. Set aside.
Step 2
In a small bowl, combine the olive oil, ancho chili powder, cumin, paprika, salt, pepper, cayenne, lime juice and zest, honey, and garlic. Pour the mixture over the halibut flesh, making sure to rub it all over, and into the crevices. Allow the halibut to marinate for 30 minutes.
Step 3
While the halibut is marinating, preheat the oven to 425° F.
Step 4
When the 30 minutes is up, place the halibut in the oven, and roast for 10-12 minutes, or until fish flakes easily with a fork. Use a fork to flake the fish into bite sized pieces, and place in a bowl.
Peach Salsa
Step 1
In a medium serving bowl, combine the peach, red onion, jalapeño, cilantro, lime juice, and a pinch of salt. Taste, and add more salt or lime juice, if necessary.
Step 2
Fill some charred tortillas with some cabbage, salmon, and peach salsa, and serve with avocado, and lime wedges.