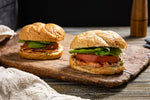 Get your GoFYSH box today!

Serves: 4
Ingredients
Salmon Burger
4 West Coast Select Salmon Burgers (Or Halibut or Cod Burgers)
4 favourite Burger Buns
1/2 head of Butter lettuce
4 thick slices of tomato
Red onion slices
Red onion slices
Dill Mayo
1/2 cup light mayo
1 tbsp pickle juice
2 tbsp fresh chopped dill
2 cloves garlic, minced
Salt and pepper to taste
Method
Step 1
Add ingredients for Dill mayo to a small bowl, mix well. Set aside.
Step 2
Heat grill or Pan on medium heat.
Step 3
Brush burgers with olive oil and cook for 4-5 min per side. Do not over cook.
Step 4
Spread dill mayo on to burger bun, place burger on bun assemble with all the toppings.
Step 5
Serve immediately and enjoy! Best paired with a side salad and fresh cut french fries!