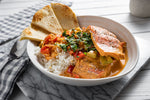 Get your GoFYSH box today!

Serves: 4
Ingredients
4 (6 oz) salmon fillets, skin removed
1/2 tsp salt
1/2 tsp freshly ground pepper
1 (13.5 oz) can unsweetened coconut milk
1 tbsp red curry paste
1 tbsp fresh lime juice
1 tsp freshly grated ginger
1 tbsp fish sauce
2 tsp brown sugar, optional
1 small sweet onion thinly sliced
1 red bell pepper, cored, thinly sliced
1 green bell pepper, cored, thinly sliced
3-4 green onions, light and dark green parts
Method
Step 2
Season salmon fillets with salt and pepper and set aside.
Step 3
In an ovenproof skillet whisk curry paste into coconut milk over medium heat until fully combined. Add in lime juice, ginger, fish sauce and brown sugar along with onions and peppers. Allow to simmer for 5 minutes stirring occasionally.
Step 4
Set prepared salmon into the curry mixture and transfer pan to oven. Allow to cook for 10-12 minutes until salmon is just cooked through.
Step 5
Serve over rice or cauliflower rice topped with cilantro and green onions.