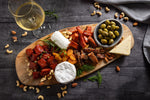 Get your GoFYSH box today!

Serves: 4-10
Ingredients
A variety of sliced cured meats and smoked salmon. Choose from: (West Coast Select) peppered candied salmon; double-smoked sockeye strips; maple sockeye nuggets; or cold-smoked sockeye lox.
A variety of soft and hard cheeses, like: Brie; Havarti; Gouda; Mozzarella; Provolone; Blue Cheese; etc.
Cured olives and pickles
Roasted and fresh veggies
Spreads, jams and mustards with with a variety of crackers and bread sticks.
A colorful variety of fresh and dried fruit such as grapes, berries ,and dried fruit
A variety of nuts such as pignoli, pistachios and almonds
Fresh herb sprigs such as mint or rosemary
Method
Step 1
Grab a large platter or two, you can use cutting boards, ceramic platters, slate cheese boards, marble slabs, etc.
Step 2
Artfully arrange where you want your cheese selection and jars, bowls of olives/pickles, jams, then place varieties of meat/salmon slices and rolled up meats/salmon around.
Step 3
Scatter crackers and bread sticks to fill up space, then add your fruit, nuts, and herbs to make keep the colors balanced and beautiful.