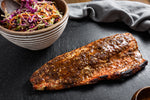 Get your GoFYSH box today!

Serves: 4
Ingredients
Honey Mustard Sauce
1/3 cup whole grain mustard
1/4 cup honey
4 cloves garlic, peeled and minced
2 tbsp fresh lemon juice
1/4 tsp smoked paprika
1/4 tsp Kosher salt
1/8 tsp black pepper
Salmon
2 pound fillet of wild sockeye salmon
1 tbsp finely-chopped fresh parsley leaves
Coleslaw
2 cups finely sliced purple cabbage (one small cabbage will be more than plenty)
2 cups finely sliced green cabbage (one small cabbage will be more than plenty)
2 cups shredded carrots
1/4 cup chopped fresh parsley
Up to 3/4 cup mixed seeds (we like pumpkin seeds, sunflower, sesame and poppy seeds) 
Lemon Dressing
1/4 cup olive oil
2 to 3 tbsp lemon juice, to taste
1 clove garlic, pressed or minced
1/2 tsp ground cumin
1/2 tsp salt
Method
Step 2
Whisk all sauce ingredients together in a small bowl until combined.
Step 3
Line a large baking sheet with a large sheet of aluminum foil. Mist the foil with cooking spray, then lay out the salmon in the middle of the foil.
Step 4
Spoon the honey mustard sauce on top of the salmon, and spread it around evenly so that it covers the top of the salmon.
Step 5
Fold the sides of the aluminum foil up and over the top of the salmon until it is completely enclosed. (If your sheet of foil is not large enough, place a second sheet of foil on top and fold the edges so that it forms a sealed packet.)
Step 6
Bake for 12-14 minutes, or until the salmon is almost completely cooked through. (Cooking times will vary depending on the thickness of your salmon, so check a few minutes early if you have a thinner cut.) Remove from the oven and carefully open and pull back the aluminum foil so that the top of the fish is completely exposed. (Be careful, lots of hot steam will be released!) Change the oven setting to broil, then return the fish to the oven and broil for 2-3 minutes. (Keep a close eye on the salmon while broiling, to be sure that the sauce does not burn.)
Coleslaw
Step 1
In a medium serving bowl, combine the prepared purple and green cabbage, carrots and parsley. Set aside.
Step 2
Measure out your seeds into a small skillet. Toast over medium heat, stirring frequently, until the seeds are fragrant and the pepitas are starting to make little popping noises. Pour the toasted seeds into the mixing bowl and toss to combine.
Step 3
To make the dressing, in a small bowl, combine the olive oil with 2 tbsp lemon juice. Add the garlic, cumin and salt and whisk until thoroughly blended.
Step 4
Drizzle the dressing over the slaw and toss until all of the ingredients are lightly coated in dressing. Taste and add an additional tbsp of lemon juice if the slaw needs a little more zip. Serve immediately or cover and refrigerate to marinate for up to several hours.