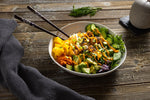 Get your GoFYSH box today!

Serves: 4
Ingredients
1 lb sushi-grade albacore tuna
2 tbsp soy sauce
1 tbsp sesame oil
1 tbsp rice vinegar
1 tsp honey
1/4 cup light mayo
1 tsp sriracha

1 cup diced cucumber

1/2 cup shredded carrots

1/2 cup shelled edamame

1/2 cup diced mango

2 large avocados, peeled and sliced

1 tbsp black sesame seeds

1 tsp green onion
Method
Step 1
Use a sharp knife to cut tuna into a dice. Add tuna, soy sauce, sesame oil, rice vinegar, and honey to a medium bowl. Toss to combine. Let the tuna sit while you prepare the rest of
the ingredients.
Step 2
Add mayo and sriracha to a bowl. Stir to combine. Season with salt and pepper. Spoon into a ziplock bag. Cut the tip off.
Step 3
Divide cooked rice between four bowls. Spoon tuna on one part of the rice. Surround with a pile of the cucumber, edamame, and carrots and mango. Spread half of an avocado on top of each serving. Sprinkle with sesame seeds, green onion and drizzle spicy mayo.